Mountain Biking - Great Exercise and Fun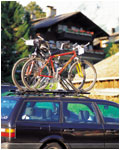 Mountain biking is a great way to explore the great outdoors, exercising and having fun. Racing down a mountainside is exhilarating; however, it can also be dangerous. Although it is consider a dangerous sport, if done with utmost caution, mountain biking can be enjoyed by the whole family.

[Read more]
How to avoid a bicycle accident
Cyclists are amongst the most vulnerable road users. A combination of factors means that cyclists are exposed to dangers that most motorists don't even have to consider. For example being less visible to drivers and being completely without the protection of a tonne of metal means that your average cyclist is pretty likely to be badly injured if they come head to head with a car. In fact there were 114 cyclists killed in 2003 and 2,297 seriously injured. Although a cyclist has the advantage of being able to stop quickly if they encounter an obstacle a car driver is less likely to see a bike until the last minute.
Buying Cycling Jerseys, Shoes And Other Bike Clothing Online
At one time you could only buy cycling equipment at your local cycle shop, if they had what you wanted or you had to hope they could order it and then you would have to wait for it to come and hope it was the right size, colour or price. Then cycling magazines started to have adverts for the bigger stores and you could post off a cheque and wait for your prized article to arrive.